We have the following Used Equipment for sale. We accept Mastercard and Visa. Please contact us to purchase this item, or if you have any questions about this or any other product.
Milwaukee 4203 Magnetic Drill Press Base, Adjustable Position with 11-inch Drill Travel - Model MILN4203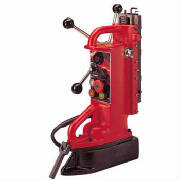 This item is sold "As Is", but it is in good working condition. New Price was $1,029.00. Our price for this used equipment is $750.
The 4203 electromagnetic variable speed adjustable base features solid state electronic switching and an 11-in drill travel. Adjustable position on this base makes lining up the bit easier and faster. Feedback speed control maintains speed and a motor/magnet lockout prevents de-mag during operation. For use on any flat ferrous material, 1/2-in and thicker.
Features:
120 volt AC only, 12.5 amp max rating
11-in drill travel
Adjustable position, variable speed base
For use on any flat ferrous material, 1/2-in and thicker
| | |
| --- | --- |
| Voltage: | 120V |
| Drill Travel: | 11-in |
| Adjustable Base: | Yes |
| Electronic Feedback: | Yes |
| Cord Type: | 9 ft. Fixed |
| Construction Type: | Grounded |
| Height: | 17-1/4-in |
| Width: | 4-1/4-in |
| Length: | 11-in |
| Tool Weight: | 49.0 lbs. |
| Shipping Weight: | 54.01 lbs. |